Writers Guidelines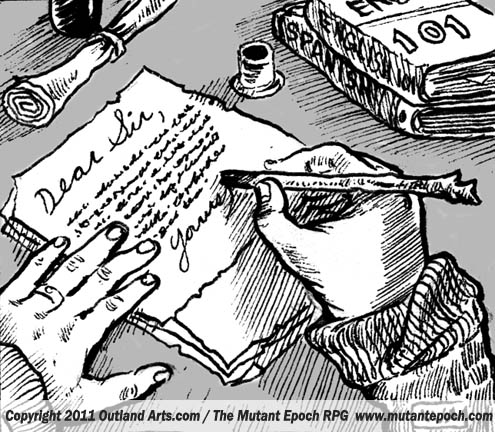 The Mutant Epoch™
So, you like writing and you like role-playing games. You've looked over our products and read the downloadable preview and believe you can come up with an awesome article, adventure, new creature or relic, possibly a whole supplement which perfectly suits The Mutant Epoch™ post apocalyptic setting. If so, then we want to hear from you!
Maybe you've never published before, and then again, maybe you have, but not in the RPG market. To Outland Arts™, creators of The Mutant Epoch™ setting, we judge writing on the same criteria we review art, on a case by case basis, relying on what we see in front of us, as opposed to what school you went to, or what you've previously published.
What are we looking for? first of all, new writers should be familiar with at least the Hub Rules book for The Mutant Epoch™, however, if you are an SOE member, learning about the regional settings through the Pitford Lite free download book and other free supplements in the member's section would also be helpful. At this time we are interested in short fiction, descriptions of new relics and robots, creatures and low rank adventures as well as miscellaneous articles for the monthly e-Zine, Excavator Monthly™. Outland arts™ has no plans at this time to license the use of the Outland System™ gaming mechanic to other publishers, and all works purchased by Outland Arts become the property of Outland Arts™
Please send us samples of your work via email pasted into an email or as an MS word attachment, or, alternatively, direct us to a web site where your writing is on display. Contact our editorial team at info@outlandarts.com .
Also see our Artist Guidelines here